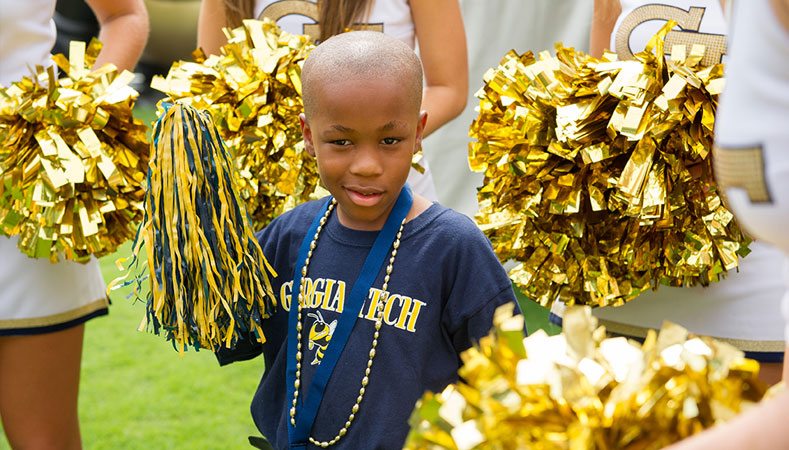 Georgia Tech's K-12 School Licensing Program was developed to generate goodwill, increase awareness, and create a pipeline of prospective undergraduate Georgia Tech students.
At the same time, the K-12 School Licensing Program helps to protect our Buzz trademark from infringement.
Approximately 380 schools have signed the no-cost agreement that gives them permission to use our Buzz trademark following specific terms and conditions.
For information on obtaining a Georgia Tech K-12 License, contact Georgia Tech Licensing and Trademarks.
Georgia Tech has two team dealers that are licensed vendors to produce merchandise for K-12 schools that are licensed with Georgia Tech: Top of the World (hats) and Holloway Sportswear (uniforms).
Hats: Email Matt Ross
Uniforms: Email Brad Sullivan
Blank Space (small)
(text and background only visible when logged in)
Keep in mind...
Trademarks are not to be used in conjunction with alcohol, tobacco, recreational drugs, gambling products, national flags, political symbols, and/or religious symbols.
Trademarks cannot be printed in red or used on red items.
The letters G and T cannot appear side-by-side on products. They must be interlocking.
Trademarks are not to be used in conjunction with other brands, names, or trademarks in a way that might appear as an endorsement by the Institute.
Designs using the trademarks must be approved prior to printing or manufacturing.
All items and materials bearing the trademarks must be printed, produced, and manufactured by an official licensee.
A registered trademark symbol, either ® or TM, is to be used next to every trademarked logo. The symbol should appear near the bottom right of the trademarked logo.