Spirit Marks
Georgia Tech's spirit marks include Buzz, the Interlocking GT, and the Ramblin' Wreck. These spirit marks are primarily reserved for use as athletic marks and to communicate school spirit.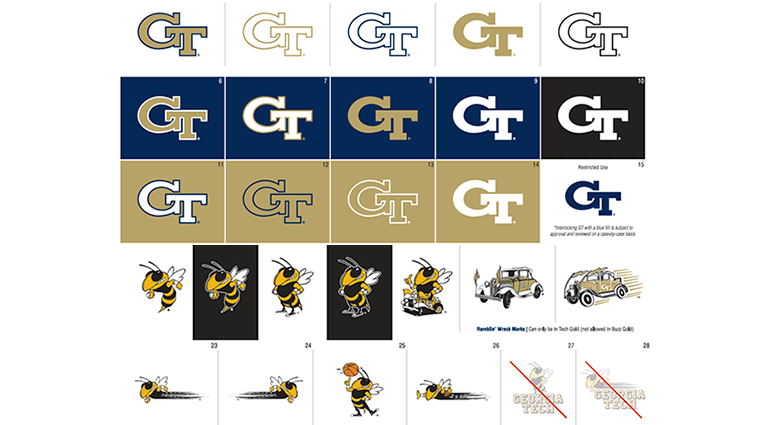 Usage Guidelines
For the full list of usage guidelines, download the logo art sheet.
Buzz predominately appears in Buzz Gold (PMS 124 C).

The interlocking GT may only be in Buzz Gold (PMS 124 C) when appearing on the same document, design, garment, or product as Buzz.

The Ramblin' Wreck mark can only be in Tech Gold (PMS 4515 C).
Permission to Use Spirit Marks
Georgia Tech departments, official student organizations, and alumni association clubs ordering merchandise that bears a registered trademark, trade name, service mark, or logo of the Georgia Institute of Technology must first complete this permission form and secure approval, in writing, from Licensing and Trademarks.
Campus/Department Permission Form
Official Colors
White and gold are key components of Georgia Tech's visual identity system. They are the primary colors available for use by all Georgia Tech units.
Consistent use and careful matching of colors are essential in establishing and maintaining a consistent and unified image. 

Blank Space (small)
(text and background only visible when logged in)
Keep in mind
Trademarks are not to be used in conjunction with alcohol, tobacco, recreational drugs, gambling products, national flags, political symbols, and/or religious symbols.
Trademarks cannot be printed in red or used on red items.
The letters G and T cannot appear side-by-side on products. They must be interlocking.
Trademarks are not to be used in conjunction with other brands, names, or trademarks in a way that might appear as an endorsement by the Institute.
Designs using the trademarks must be approved prior to printing or manufacturing.
All items and materials bearing the trademarks must be printed, produced, and manufactured by an official licensee.
A registered trademark symbol, either ® or TM, is to be used next to every trademarked logo. The symbol should appear near the bottom right of the trademarked logo.